Ayurveda Spa
At the Indian Summer House we would like to make your stay as relaxing and rewarding as possible.  Take advantage of our in house Ayurveda Spa to relax mind and body, detox and rejuvenate or energise and strengthen with a selection of ayurveda spa treatments, yoga and meditation.
Just ask us for more details.
Local Experience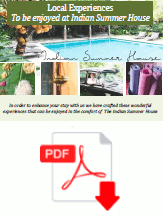 We would be delighted to provide our guests with an insight to local life, regional food, cooking and culture. With this in mind we have created some innovative experiences to enhance your stay at the Indian Summer House.  One popular short tour is the river crossing and tea at Mohanan's Tea House. You can follow this up with a delicious lunch with the Officers at the Public Works Department while gaining insight into the way government and community works in this part of India.
You are welcome to join a local or take a self-guided walk through Muvattapuzha or take a Temple visit with an Aunt. If shopping is more your thing let us steer you to the best silk Sari and Khadi cotton shopping in the district.  No stay at the Indian Summer House would be complete without a cooking lesson with our head Chef.