5 Reasons to visit Indian Summer House Kerala South India 
With the new year just begun, many of us are thinking about where we will travel to this year.  One destination that is on everyone's list is Kerala, South India and Indian Summer House has just made that experience so much more comfortable. The Indian Summer House should be on your to-visit-list. This new, and only five-star luxury property in Kerala is a gateway to the wonders of a forgotten lifestyle and the sheer beauty of God's Own Country.
For anyone with a passing interest in landscape design and architecture, the Villa is a fascinating place to visit. The architect Made Wijaya was born Michael White in Sydney Australia and died in November 2016. White arrived in Bali in 1973, having jumped ship and swam ashore in a rainstorm. A student of architecture, he intended the visit as a short break from his studies, but his fascination with Bali's rich culture and tradition led him to move in with a Brahman family in South Bali. After various jobs teaching tennis and English, working as a tourist guide and photojournalist, he began contributing to guide books before being asked to design the gardens of the legendary Bali Oberoi.
More than 600 gardens later, Wijaya was to become a world renowned tropical garden designer. And in the case of Indian Summer House he influenced its architecture as well. His company expanded to include a 500-strong team of artisans and garden commandos, as he liked to call them. Over many years Wijaya travelled between Bali, Singapore, India, Spain, Morocco, Hawaii, Australia and Mexico to weave his magic.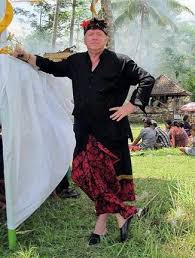 Here are Five reasons you should make the trip to Kerala before everyone else does
1. Easy To Get To
Those of us that have travelled in India often know that even short distances can take a long time to cover. Indian Summer House is an easy 45mins from Kochi International Airport making it an ideal spot for a four to ten day tour of the South. The Villa is nestled in a rural community within an hour or two of both the bohemian Fort Kochi and the serene Tea Estates and natural beauty of the Western Ghats, making it a perfect retreat from India's big cities. It's also a great starting or ending point if you have grander plans to cover the South. India also offers Visa on Arrival for last minute travellers.
From Hong Kong: Singapore Airlines: Leave at 2.10pm and be tucked up in bed and asleep at Indian Summer House before midnight.
From Australia: Singapore Airlines: Leave at 11.20am and be tucked up in bed and asleep at Indian Summer House before midnight.
From Singapore: Singapore Airlines: Leave at 8.00pm and be tucked up in bed and asleep at Indian Summer House before midnight.
From London: Singapore Airlines: Leave at 10.00pm and be tucked up in bed and asleep at Indian Summer House before midnight the next day.
From New York: Etihad: Leave at 2.15pm and be at Indian Summer House for a late supper the next day.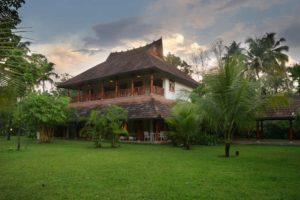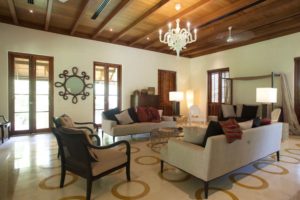 2. The Pool
Travelling in South India is always warm, even in the monsoon, and there is no better way of ending or starting the day than descending the stone temple steps for a soak in the 15-meter pool. Most mornings the pool is scattered with the lilac flowers from the Laurel Clock Vine. Your favourite holiday past time – reading a book by the pool and swimming, is possible all year in the striking blue waters. Pack your swimmers.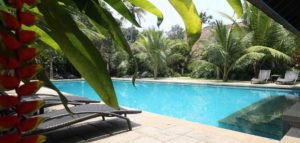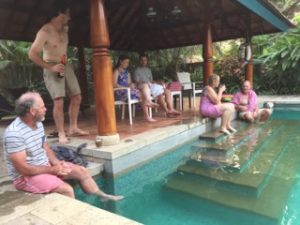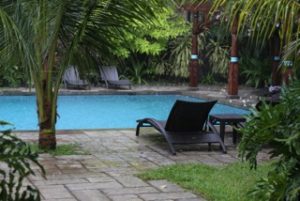 3. Care for your Body and Mind
This resort encourages all guests to book in for daily yoga classes. Usually held on the veranda yoga is the ideal way to quickly settle in to the Kerala lifestyle. Ayurveda: like religion, is also an integral part of cultural life in Kerala. Most Keralans will visit their Ayurveda health advisor on a regular basis for pampering, relaxation, rejuvenation after stressful times, or to treat an ongoing ailment or condition. Massages and facials are provided in the designated spa space, under the care and guidance of trained professionals. If you prefer a gentle relaxation massage they have options that will suit, or if you would like to work on problems like circulation or arthritis then a treatment with selective herbs and oils is available. The Ayurveda Spa/Massage guru Riju is there to help.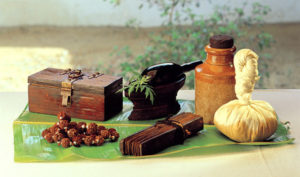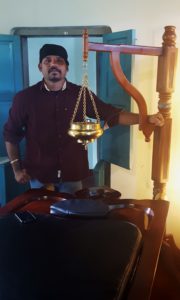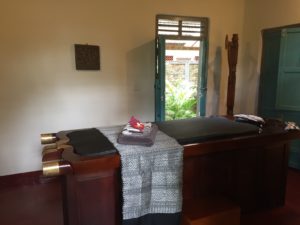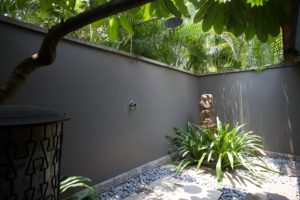 4. The Spaces
The four guest rooms, the family room, the salon, the entrance pavilion, the dining terrace are all individual buildings connected by Made's grand covered palatial walkway. All guest rooms are spacious, welcoming and comfortable thanks to Russell Grainger –interior designer. You can choose AC or open the room up tropical style and enjoy the breeze from the fans. All rooms, including the upstairs palatial suite, feature individual outdoor showers for a little romancing in the moonlight! Apart from the rooms, there are many varied outdoor relaxation spaces that each have a special attraction whether it be the quirky statues, elegant lawns or colourful flowers of the tropical plants. And for the energetic a Lifestyle gym.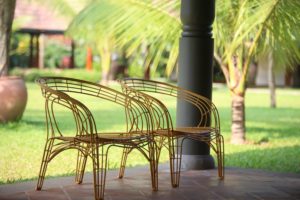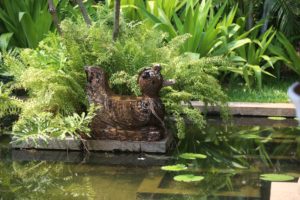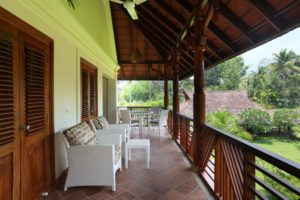 5. The Food
All prepared by your own Chef, the food of Kerala needs no introduction: It's zesty, flavoursome and always offers an intelligent combination of potent spices. Prepare yourself for a culinary journey that canvases everything from exquisite seafood to ignored vegetables, from coconut milk to crispy curry leaves, from spluttering mustard seeds to soft and spongy appams. Prepare yourself for a scrumptious ride to 'God's own country'. Keralan food reflects a meeting of cultures. Kerala hindus have a largely vegetarian menu and use coconuts that grow along the coast. Syrian Christians eat more fish and meat, and the Muslims make delicious breads and sizzling biryani. But some techniques and habits remain common through the state; vegetables are cooked with mild spices and steamed in their own juices or cooked in yogurt coconut milk. Rice is the staple food and red rice is commonly eaten. Coconut oil is preferred for cooking and is what gives Malayali cuisine a distinct taste. Apart from Vegetarian options there's chicken, mutton, pork, beef and a thrilling range of seafood – mussels, crab, tiger prawns, king prawns, tiny prawns, oysters, sardines, mackerel, tuna and gorgeous red lobsters.